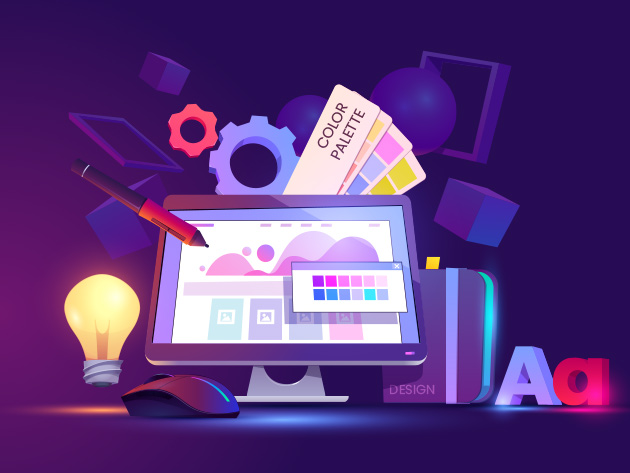 Learn Adobe Photoshop, Premiere Pro, XD, Lightroom, & Illustrator
383 Lessons (36h)
Your First Program

Lightroom Importing and Filtering Photos

Importing Photos into Lightroom Classic CC

9:53

Organizing Photos with Collections

13:43

Finding Your Photos Rating, Flagging, Labeling and Filtering Photos

10:35

Lightroom Editing Your Photos

White Balance Adjustment

13:51

Exposure Adjustments

10:36

Color, Saturation _ HSL Adjustments

11:37

Sharpening _ Noise Reduction

8:41

Vignettes, Grain _ Dehaze

10:36

Lens Corrections Chromatic Aberration _ Profile Corrections

8:12

Removing Blemishes with the Healing Brush

8:43

Graduated, Radial _ Brush Filter Adjustments

13:41

Range Masks for Pin Pointing Your Adjustments

9:09

Lightroom Advance Tips To Edit Photos

Installing, Using and Creating Presets to Speed Up Workflow

7:22

Camera Color Profiles

4:42

Batch Editing Speed Up Your Workflow

7:26

Stitching Together a Panorama

4:14

Automatically Fix Exposure _ White Balance

2:37

Lightroom Portrait Editing Techniques

Enhancing Eye Color _ Changing Eye Color

11:44

Removing _ Smoothing Wrinkles

7:02

Enhancing Lips _ Changing Lipstick Color

4:16

Enhancing Cheeks _ Face Contouring

13:26

Lightroom Photo Editing Sessions

Editing a Portrait of a Woman

35:17

Editing a Night Photo

12:34

Editing a Long Exposure Photo

13:58

Editing a Nature Photo

8:34

Editing a Landscape Photo

13:15

Editing an Architecture Photo

18:26

Editing a Macro Photo

10:51

Lightroom Map, Book, Slideshow, Print & Web Modules

What is Splash Screen?

21:01

Start Designs with Free UI Kits in XD

3:44

How to Design an Onboarding Screen

21:39

Adobe XD - Netflix Onboarding Screens Prototype

20:40

Login/Sign up Screen UI Designs

29:33

Netflix Home Page Design

20:34

Preview XD Prototypes on Smartphone

3:30

Share Prototypes for Review

8:05

Export Design Assets in Adobe XD

6:03

New Features in Adobe XD

5:08

Add Sound Effects in Prototype

7:18

How to make Neu Morphism

16:19

Full Page Advance Parallax Animation

17:11

Drag Animation in Adobe XD

9:58

Floating Action Button

13:01

Tricks about Drag Feature

18:58

Bottom Bar Navigation

24:39

App Navigating Tricks

7:15

Cool 3D Carousel Animation

13:24

Create Sidebar Menu & Overlay Prototypes

10:15

Creative Website Design

32:34

App Carousal New Tricks with drag feature

13:38

Creative Pull to Refresh Interaction

9:17

How To Make Creative Animated Website

19:35

How to Add Video in Website

8:57

QR Scanner & Countdown Design & Animation

5:33

3D Transforms in Adobe XD

5:03

Creative Way to fill form (Natural Language Form)

12:11

Design for Adobe UX case study

9:41

Creative Parallax style Form UI in Adobe XD 2021

56:09

Mobile App Design & Prototype in Adobe XD 2021

60:19

Let's make emailer design in Adobe XD 2021

23:50

Premiere Pro Complete Course

Premiere Pro Interface

2:41

Advanced Editing Techniques

8:35

Change Clip's Properties

3:13

Masking and Creative Effects

14:13

Cinematic Color Correction

19:30

Audio Effects and Voice Adjustments

10:28

Cinematic Look for Your Videos

15:22

Export Settings and Conclusion

2:02

System and software requirements

1:52

Opening Photoshop for first Time

opening photoshop for first time

7:10

Opening and saving the project

4:10

Align and Place Objects

3:06

Photoshop Everything About Layers

Understanding concept of layers in Photoshop

3:46

Playing with Layers Panel

3:08

Duplicate rename delete and merge layers

2:58

Photoshop Clone Healing and Adjustment Layers

More on adjustment layers

1:51

Photoshop Selection Tools

Object Selection tool

1:24

Basic Shapes in Photoshop

4:05

More properties of shape tool

1:40

Photoshop Camera Raw Filter

Advance Camera Raw Filter

22:30

Advance Photo Manipulation in Photoshop

Preparing Environment

4:20

Cropping Subject from BG

3:11

Placing Subject in Environment

1:38

Details and Explanation

3:04

Photoshop Advance Photo Manipulation Part 2

Blur, Lights _ Color Lookup

4:47

Photoshop Mobile UI Design

Contacts Window Design

9:48

Finalizing & Exporting

3:40

Photoshop Double Exposure

Double Exposure Effect

6:18

Photoshop Photo Retouching

Color and texture separation

3:26

Glowing Objects In Photoshop

Making butterfly glow

3:37

Placing Poster Components

6:20

Additional props and effects

5:09

Creating First Mockup

4:29

Exporting the psdt template

4:12

Photoshop Selling Templates Online

Illustrator Concept, Layout & Setup

Set-up document and make artboards

4:59

Interface & Navigation - Pt 1

7:01

Interface & Navigation - Pt 2

3:28

Illustrator Creating Simple Shapes

Basic shapes / Fill & Stroke / Selection tool / Outline Mode

6:46

Ellipse / Polygon / Lines / Stars

4:49

Direct Selection tool / points / corner widgets

2:55

Introducing Handles on Points

2:51

Project 1: Make an apple logo

4:02

Project 2: Make a whale logo

6:13

Illustrator Create Complex Shapes

Pen tool introduction and basic lines and curves

6:43

Click and drag to make curves

2:29

Click last point to create custom shape

4:39

Breaking the handles for full control of curves

5:04

Use alt techniques to create a simple drawing

8:22

Add another point and outline mode

2:21

Pencil tool and redrawing shapes

4:41

Smoothing tool and Erase tool

3:28

Eraser tool, Scissor tool and Knife tool

0:37

Join Points, Average Point, Join tool

4:35

Blob brush, Paint brush

4:39

Simplify paths and smoothing

1:53

Project: Poster, Part 1 - Poster for Festival

10:13

Project Poster Part 2

9:52

Project Poster Part 3

3:01

Transform again – inc rotate copies, scale copies

6:24

Transform again - move registration point

2:37

Transform again and clipping mask

4:30

Scale, Rotate, Shear and Mirror

7:02

Project 1: T-shirt Logo, Part 1 – Create Logo

5:38

Project 1: T-shirt Logo, Part 2 – Create Logo

9:07

Project: T-shirt Logo, Part 3 - Create Logo and Add Logos

3:47

Project 2: Infographic, Part 1 – Create basic shape

4:45

Project 2: Infographic, Part 3 - Add Text Detail

4:22

Project 2: Infographic, Part 2 – Add color and detail

4:30

Project 2: Infographic, Part 4

3:23

Illustrator New Features 2021

Project: Create a Mask Using Repeat

4:50

Illustrator Arranging Artwork

Arranging artwork bring to front

3:13

Cut and paste in front of or behind and in place.

2:01

Group / Ungroup and double click to get isolation mode

4:28

Nested groups and isolation mode

2:42

Layer introduction – Lock, make new layers and move

5:35

Layers in use to select objects

2:35

Artboards – make artwork variations by copying artboards

4:10

Artboards – using the Artboards panel

2:46

Project: Map, Part 1 – Create doc and place image

2:01

Project: Map, Part 2 - Draw roads with Pen or Pencil tools

2:20

Project: Map, Part 3 – draw rivers with Pencil tool

2:58

Project: Map, Part 4 – draw parks with pencil. Use Arrange to restack objects

3:48

Project: Map, Part 5 - Create background, add layers and text

3:42

Project: Map, Part 6 – Clean up objects, and Save

2:04

Project: Map, Part 7 – Add colors by importing swatch and clipping mask

2:45

Project: Map, Part 8 – Make trees

4:03

Project: Map, Part 9 – Make 3D building

4:33

Project: Map, Part 10 – Export

3:42

Clipping Masks - Make & Release

2:41

Clipping Masks - Adjust Contents

1:47

Clipping Masks - with a Photo and Edit

1:17

Opacity Mask - Basics

3:27

Opacity Mask - with Varying Shades of Grey and Effects

3:04

Blend Photos with Opacity Mask Gradient

3:59

Variation of Last Project

3:10

Illustrator working with color

RGB & CMYK - What are They?

9:19

Color Swatch 1 - Create Your Own Color Sets

4:16

Color Swatch 2 - Make Your Own Colors

2:06

Global Colors - How and Why You Need Them

3:15

Saving Swatches - Use Them in Other Docs

1:55

Color Guide - Helping You Choose Color Sets and Harmonies

1:59

Recolor Artwork - Copy Trimmed Artwork and Make Color Variations

1:11

Recolor Artwork - Use a Photograph to Recolor Your Artwork

2:15

Illustrator Gradient, blends and meshes

Using Gradients - Apply , Edit, Apply to Many Shapes inc Library

2:42

Create Your Own Gradients - Add & Remove Color and Change Type

2:02

Radial Gradient Options - Use the Aspect Ratio Option

1:26

Gradient Opacity - Add Transparency to Gradients

1:20

The Freeform Gradient - Add Points to Edit Gradient

2:25

Save Gradients - Save for Individual Documents or for Swatch Library

1:53

Go Wild with Blends - Change the Blend Path and Use Multiple Shapes

5:38

Use Blends for Repetition - Create a Film Strip

2:15

Using the Gradient Mesh Tool - How to Color with Meshes

2:31

Gradient Mesh from the Menu - More Mesh Options

1:45

Project 1: Cyberwave Blend - Create 4 Sci-Fi Web Banners with the Blend Tool

6:07

Project 2: Infographic Arrows Part 1 - Import Gradients

1:36

Project 2: Infographic Arrows Part 2 - Create Arrows

1:20

Project 2: Infographic Arrows Part 3 - Add Color Gradients and Perspective

3:00

Project 2: Infographic Arrows Part 4 - Adjust Arrows Using Isolation Mode

5:34

Project 2: Infographic Arrows Part 5 - Add Background, Arrow Depth & Shadow

1:16

Project 2: Infographic Arrows Part 6 - Add Glow Behind Arrows

2:28

Project 2: Infographic Arrows Part 7 - Create Icons for Infographic

3:04

Project 2: Infographic Arrows Part 8 - Export for Screens

1:39

Illustrator Complex Appearances

The Appearance Panel - Make and Edit for Complex Fill & Strokes

4:54

Saving the Appearance as a Graphic Style - Saving & Reusing Appearances

5:05

Area Type and Point Type - Main Differences and Converting Between Them

4:07

Type in a Custom Shape - Creating and Controlling Type in a Custom Shape

3:07

Type in a Custom Shape Part 2

2:20

Type on a Path - Controlling Type on a Custom Path

2:49

Type on a Circle - Using Type Around the Top and Under the Circle

2:28

Touch Type Tool - Manipulating Individual Characters

3:03

Text Flow - Text Flow Between Frames and Multi-Column Frames

2:33

Character Panel Options - Understanding all the Options in Character Panel

6:10

Spellchecker - Auto Spellchecking, Manual Checking and Language

3:01

Paragraph Panel - Understanding all the Options in Paragraph Panel

2:54

Type as Outlines - Converting Type into Shapes for Printing or Effect

3:15

Project: Aperture Blade Logo, Part 1 - Create the Blades

2:18

Project: Aperture Blade Logo, Part 2 - Type Around Shapes

3:30

Project: Aperture Blade Logo, Part 3 - Add Circles and Change Background Color

3:45

Create a Simple Pattern

3:21

Adjust Pattern Options - Adjust Distances, Overlap & Tiling of Patterns

3:53

Make a Pattern from the Object Menu - Draw Pattern Directly and Save Patterns

3:15

Make a More Complex Pattern - Adjust Your Pattern & Work Directly with the Pencil

3:28

Scale & Rotate Patterns - Use Scale & Rotate Tools to Affect Pattern or Object

2:56

Move Live Paint Options

4:41

Live Trace - Make Bitmap Images into Vectors

4:09

Project 1: Business Card, Part 1

2:28

Project 1: Business Card, Part 2

3:18

Project 2: Adventure Infographic, Part 1

2:57

Project 2: Adventure Infographic, Part 2

2:35

Project 2: Adventure Infographic, Part 3

2:52

Project 2: Adventure Infographic, Part 4

3:37

Project 2: Adventure Infographic, Part 5

1:00

Illustrator Symbols and Spray Tools

Using the Symbols Panel

3:40

Using the Spray Can with Symbols

1:32

Introducing Brushes - Brush Types & Brush Libraries

3:39

Create a Scatter Brush - Get Objects to Follow a Path

7:37

Create a Pattern Brush - Distort Objects to Make a Smooth Path

3:02

Pattern Brush Options - Add a Corner

2:18

Art Brush and Brush Color Settings

3:44

Art Brush Options - Scale Options

2:05

Calligraphic Brushes - Create Customised Calligraphic Brushes

2:24

Bristle Brushes - Create Customised Bristle Brushes

1:08

Project: Cars Logo 1 - Create a Simple Car Logo for Child's Game

5:09

Effects 1 - Illustrator & Photoshop Effects and What is Rasterization?

1:31

Effects 2 - Effects vs Non-Effects

3:11

3D Effects - Introducing the 3D Effect

4:10

Add Text, Graphics & Photos to Shapes

4:48

Revolve a Shape in 3D

4:52

Using Multiple Shapes in 3D - Group or Ungroup

1:43

Rotate in 3D - Using Perspective in 3D

2:51

Project: 3D Sphere, Part 1

2:57

Project: 3D Sphere, Part 2

3:27

Project: 3D Sphere, Part 3

3:35

Project: 3D Sphere, Part 4

3:00

Project: 3D Sphere, Part 5

1:29

Add & Make Guides, Smart Guides and Grids

5:51

Perspective Grid - 1, 2 and 3 Point Differences

3:37

Moving the Vanishing Points

1:37

Drawing in Perspective on the Grid

1:35

Moving Non-perspective into Perspective - the Select Tool

1:13

Saving for Print, PDF & EPS

3:36

What You Get in a Printers File

0:48
Learn How to Use, Navigate, & Master Premier Designing Software from Beginner To Advance Level
Designer's lab

Designers Lab

4.0/5 Instructor Rating: ★ ★ ★ ★ ★ ★


Designerslab is a team of 7 members having a common vision of affordable global education. They edit all their course contents and videos with live examples and try their best to make you understand everything very easily. You will learn everything in their courses and become professional as same or more than them.
Description
You have found the perfect course if you want to learn about these programs. It doesn't matter if you have no experience at all, this course was designed to teach you to design in the most effective means necessary. By utilizing the proper tools of programs like Photoshop, Illustrator, XD, After Effects, Lightroom, Premiere Pro, and more you can propel yourself from a beginner to an expert, just by having the right education. The fundamentals of design are useful for a lot of careers, industries, and hobbies. It doesn't matter if it's logo design, web design, social media, user interface design, advertising, product design, printing, or t-shirts. This course will cover ideas that can be used in any niche!
4.0/5 average rating: ★ ★ ★ ★ ★ ★
Access 383 lectures & 36 hours of content 24/7
Learn the fundamentals of design
Learn how to use Adobe CC Programs, Adobe Photoshop, Adobe Illustrator, Adobe XD. Adobe Lightroom, Premiere Pro, Audition, & After Effects
Watch practical, real-world projects that you can follow along with
Note: Software NOT included.
Specs
Important Details
Length of time users can access this course: lifetime
Access options: desktop & mobile
Redemption deadline: redeem your code within 30 days of purchase
Experience level required: all levels
Have questions on how digital purchases work? Learn more here
Requirements
Any device with basic specifications
All project files are given in one file in the first video of every section
Terms
Unredeemed licenses can be returned for store credit within 30 days of purchase. Once your license is redeemed, all sales are final.